Categories:
Other Brands
Ok Hermes lovers, it's official!
A new Kelly (the Kelly Mini II) measuring a mere 20 cm is expected to arrive this fall! Don't get too excited though because getting your hands on one may be next to impossible, at least here in the US, unless you're a VIP customer in one of the Hermes flagship cities.
The buzz is that it will only be available in Miami, Beverly Hills, and the mothership in NYC, but with Hermes one can really never really predict. Maybe the Hermes Goddess's will have pity on those of us living in more remote areas of the country, LOL.
The mini Kelly will be available in Chevrè and Epsom leathers.
Colors offered will be Blue Hydra, Moutarde, Rose Lipstick, Craie & Rouge Tomate. The price tag definitely won't be mini, unless $7,700 somehow qualifies as diminutive in your books.
From what we can gather from the latest Sept. 2016 issue of Town and Country , the new mini treasure has more of a pochette shape than the traditional Grace Kelly shape we're familiar with. Unlike the Hermes Kelly pochette clutch, this will have the traditional detachable shoulder strap
comnum(0) tbcount(0) tbcount(318)
Categories:
Other Brands
A gorgeous, gorgeous bright bag, no wonder it's called the Dolce Box Cinderella Mini Bag from the classic Dolce And Gabbana Dolce Collection. A surefire way to lend that extra ray of sunshine into your ensembles, this happy yellow colored mini bag is the perfect companion to bring.
Set in a vibrant yellow structured design with touches of tonal crystals and carved detailing for a dimensional effect, this bag is one for the books. It features the label's iconic floral-embellished turn-lock that adorns the front for a signature feminine touch.
Made from Plexiglas, this beauty also features a detachable, adjustable shoulder strap. Add an instant pop of color to your style by having this mini bag within your reach.
Measuring 3.5' x 2.5' x 1.5' inches and is priced $1745 USD, €1150 euro, $12900 HKD, $2700 AUD, ¥189000 viaMyTheresa.
Tags: bag Dolce Gabbana Mini Box Cinderella
comnum(0) tbcount(0) tbcount(339)
Categories:
Other Brands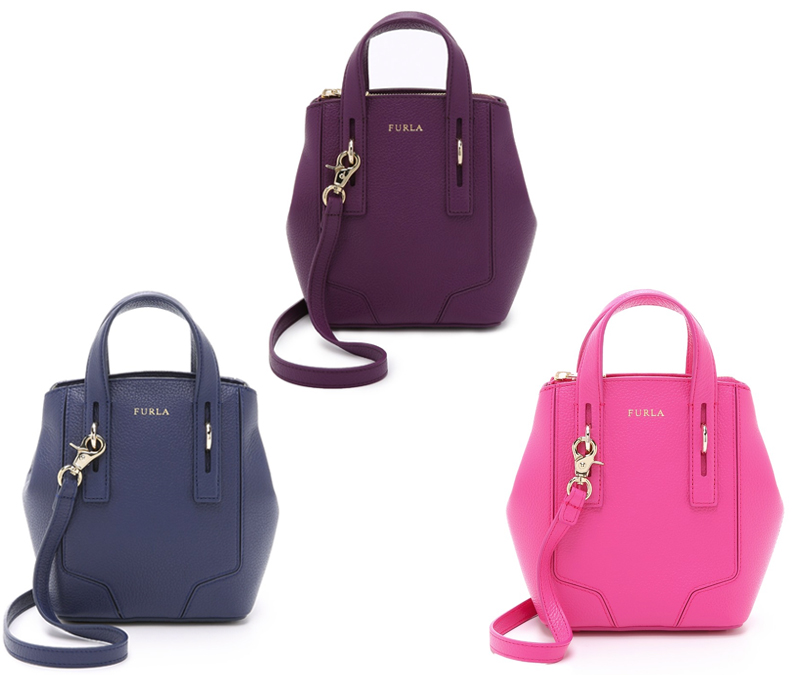 This adorable little bag has such a great shape. It's taken some inspiration from a classic north-south tote and restyled it to irresistibly detailed effects. Tapering towards the top, it's got the same of appeal as a bucket yet it's totally different. Any bigger and you might find yourself losing things; this size is ideal.
It's small, but a small bag is big enough if you don't have young children and all their gear, or you need your tablet with you, or a change of shoes…I could go on. I mean, you know this isn't a bag you're going to live out of, but I'm used to cutting down. I'm all about the bare essentials!
Don't be deceived: the rings the strap clips to are decorative. I like it when hardware serves both a functional and aesthetic purpose, which should always be so. I'm not a fan of extraneous hardware, but I'm willing to let it slide because this bag, in navy, aubergine, or hot pink, is such a great frugal score.
Tags: Tote Mini Crossbody Furla Perla
comnum(0) tbcount(0) tbcount(281)
Categories:
Other Brands
OMG, look what we've found – the Saint Laurent Mini Quilted College Chain Wallets.
The Saint Laurent College Bag was not released not long ago and already, the fashion house is downsizing the new design into an irresistible tiny bag.
Tempting and seductive, the Saint Laurent Mini Quilted College Chain Wallets make every girl drool. The Chevron Quilting and the iconic YSL logo on the front flap combined make it truly a timeless accessory. Ten years later, you will still be proud to have this baby in your wardrobe.
While the bag is irresistible, it's missing a long chain to wear cross body or on your shoulder. However, look closer how the short chain is attached to the mini bag… it can be easily removed and switched to a long chain. So no worries, put some creativity into it and you will have a mini shoulder bag of your own.
The Saint Laurent Mini Chevron Quilted College Chain Wallet can function as a large wallet or an evening clutch. You can also grab on the short chain by hand and wear it like a mini tote bag.
The bag is made from suede, the interior features one large compartment for all your essentials, as well as an internal slot pocket.
Oh yes, if you don't like suede, they've this bag in full leather as well, for the same price.
Measuring 3' x 4.5' x 1' (H x W x D) inches, priced at $595 USD via MyTheresa. Now go and hunt this baby.
Tags: wallets Mini Saint Laurent Chain Quilted Collège
comnum(0) tbcount(0) tbcount(341)
Categories:
Other Brands
The Chanel Mini Classic Flap Bag is a timeless piece from Chanel but did you know that there are new colors available for this season? Chanel heard all your pleas and requests ladies so it's now bringing you these stylish and plush Mini Classic Flap Bags in several rich shades that you can choose from.
With its beloved thick diamond quilting effect and its interwoven chain strap, it's no wonder that the Mini Classic Flap Bag remains a true classic up to this date. The classic CC logo and clasp is still there which is an absolute no-brainer beauty!
For this season, the Chanel Mini Classic Flap Bag is available in the colors of plum (dark violet), royal red, black, and flesh nude color.
As per August 2016, the price is $2700 USD, €2250 euro and £1910 GBP. The size is 5.3′ x 6.7′ x 3.1′ inches, available via Chanel boutique.
Tags: bag Chanel Flap Mini classic
comnum(0) tbcount(0) tbcount(299)
Categories:
Other Brands
Gucci is putting its best foot forward by promoting its Dionysus Bag in the front line. Considered to be one of the hottest and most-in-demand Gucci bag right now, this Dionysus Mini Shoulder Bag is recreated this time in metallic gold python.
A mini structured bag with Gucci's signature textured tiger head spur closure embedded with Swarovski crystals, this treasure is especially made to cater for women who loves attention-grabbing bling and shiny accessories. I mean, who couldn't resist that shiny Dionysus shoulder bag right?
It also has the sliding chain strap that lets you wear it in multiple ways. Combining functionality and style, you can wear this Gucci creation as a shoulder bag and as a top handle bag.
What's more? Crafted in beautiful metallic python leather, embellished with a tiger head spur, hand-painted edges with hand-stitched details, a pocket under the flap with sliding chain to wear cross body.
Perfect for those glittery night soirees and evening parties, pair this sparkling bag of a gem over your black figure-hugging mermaid dress and you'll certainly look like a million dollar woman.
Tags: bag Gucci Mini Shoulder Python DIONYSUS
Categories

New Posts

Hot Posts